Launching the central span of the Petrac railway viaduct – Gioia Tauro (RC)
Thrust launch. The Petrace railway viaduct is made of 3 metal spans with an insole in reinforced concrete. SISTRAL is responsible for the management of the hydraulic thrust equipment for the launching and rotation of the central span of the viaduct, which is assembled to "upstream" for then be pushed towards the stack opposite to the assembly one, for a total "launch" of about 60 m.
LOAD TRANSFERS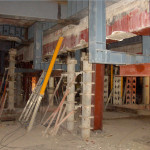 Redevelopment of the former Ambasciatori cinema (MI). Load transfer has been performed to modify the geometry and lengths of the portals in reinforced concrete.